Annual Overview 2020
29 September 2021
| News
The HPF has published the annual report for 2020. In this report, the board reports in a clear and attractive manner on, among other things, the policy executed, the financial results, the implementation costs and the sustainability of the investments in the past year. We also informed you about this in our last newsmail, but you may have missed this because of a summer holiday.
Read the annual overview. Of course you can also read the full annual report (only available in Dutch).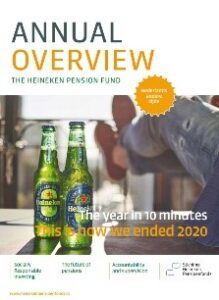 Related posts
Complete accountability council
28 September 2023

The accountability council had several vacancies. At this moment they are all fulfilled.
Elections for the accountability council of the Heineken Pension Fund
7 September 2023

The Heineken Pension Fund has an Accountability Council (VO). Among other things, the VO takes responsibility from the board of the Heineken Pension Fund for the policy and the way in which it has been implemented. Click here to see who are in the VO right now.
Results of research into risk and your pension
17 July 2023

In March, the Heineken Pension Fund invited you to participate in the research into how much risk you want to take with your pension. We think it is important to know how our (former) participants and pensioners view the returns and risks of investing. With this research we got a good indication of that.